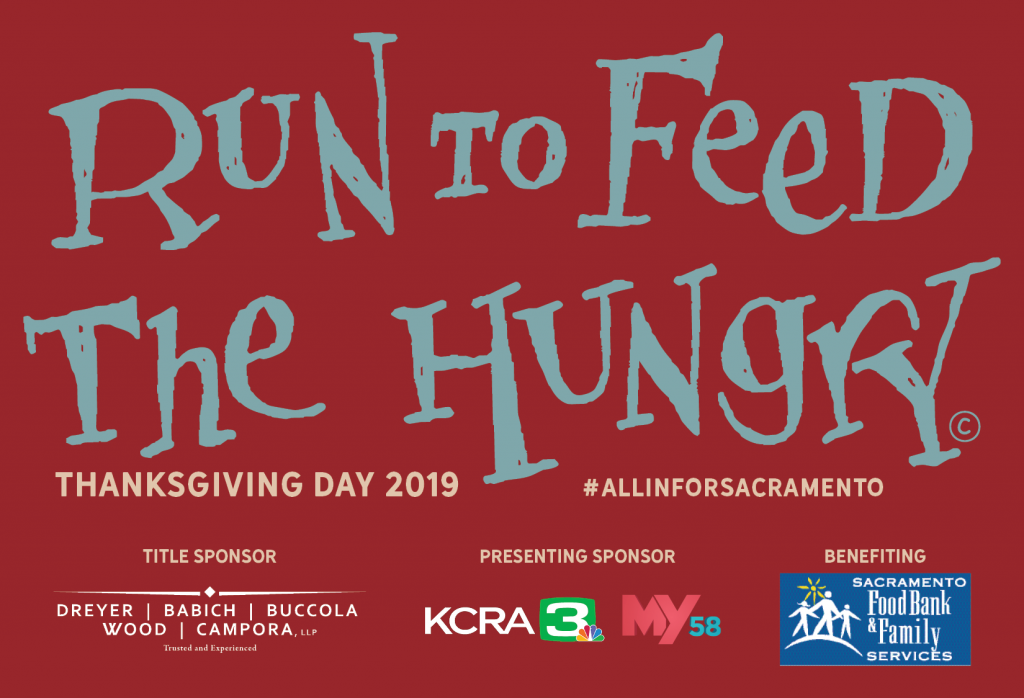 I've been busy with helping clients and have neglected my blog as of recently. The Run to Feed the Hungry event can't be neglected though!
Below is everything you need to know about the event (or at least links to everything).
The new item of note for this year is that Waste collection for homes in the River Park Neighborhood and part of the East Sac Neighborhood will occur on Friday, November 28th 2019 instead of Thursday, November 27, 2019.
This year, the Solid Waste Team will be collecting garbage, recycle and containerized yard waste on Friday in neighborhoods where access is usually blocked during the race closures. Collection will remain on the Thursday schedule for areas outside of designated area. If you are in the special collection area, have your containers out by 6 a.m. Friday November 28,2019 for collection.

Event Information
WHAT
Run to Feed the Hungry is a 10K Run & 5K Run/Walk to support Sacramento Food Bank & Family Services
WHEN
Thanksgiving morning – Thursday, November 28, 2019 — Rain or Shine!
10K – 8:15 a.m. • 5K – 9 a.m.
WHERE
The event starts on J Street just west of the entrance to the Sacramento State campus and runs through the beautiful tree lined streets of East Sacramento. View the course map for more information.
PACKET PICKUP
Packet pickup is available Saturday, November 23 through Wednesday, November 27 at Fremont Presbyterian Church, 5770 Carlson Dr, Sacramento, CA 95819. (Please do not contact Fremont Presbyterian Church directly for information.)
The packet pickup hours are as follows:
Saturday, November 23 from 10 a.m. – 6 p.m.

Sunday, November 24 from 1 p.m. – 6 p.m.

Monday, November 25 from 10 a.m. – 7 p.m.

Tuesday, November 26 from 10 a.m. – 7 p.m.

Wednesday, November 27 from 10 a.m. – 7 p.m.
Packet pickup is also available on Thanksgiving Day from 7-9 a.m. at Fremont Presbyterian Church. (Please do not contact Fremont Presbyterian Church directly for information.)
Registration
INDIVIDUALS

Youth (17 & under) – only $20!

Adult (18 & older)

Early Bird Registration (through Thursday, November 21) – $35

Regular Registration (Friday, November 22 – Wednesday, November 27) – $40

Race Day Registration (Thanksgiving Day, November 28) – $45 *Race day registrants will not be timed

Paper registration available! Click here to print and mail in your registration by November 15!

Teams 

Team registration closes on Thursday, November 7 at midnight.

Youth, 17 and under – $35

Adult, 18+ – $55

Teams receive an upgraded, gender specific shirt with their personalized team name on the back, group photo, breakfast and more! Teams info.
DRUMSTICK DASHER (VIRTUAL PARTICIPANT)

Out of town? Responsible for the Thanksgiving meal? Want to sleep in? Register as a Drumstick Dasher to receive your bib and shirt, but skip the running.
THANK YOU GIFT

Individuals who give a donation of $50 or more AT THE TIME OF REGISTRATION (and WHILE SUPPLIES LAST) will receive a Run to Feed the Hungry turkey hat. Register today!
Merchandise
Run to Feed the Hungry merchandise items will be available for purchase! Stay warm this Thanksgiving with Run to Feed the Hungry gloves or showcase your support with a Run to Feed the Hungry baseball cap! Select your favorite items when you register!
Things to Remember
Please keep dogs at home … for the safety of both species!

No roller blades, bikes, scooters or skateboards.

Bike parking is available during the event.

Refunds and transfers are not available because all proceeds support families in our community.

No strollers, baby joggers or wagons in the 10K and 5K timed races.