A little over a week ago Fox Dennis Shanahan of Fox 40 News interviewed me to talk about how Sacramento has become a seller's market again. This is something that us in the industry have known for most of the year, but now all the market data is out to support that.
The market analyst's over at Zillow had identified Sacramento as the third hottest seller's market in the country!
You can see the two minute news spot
here
.
I had the good fortune to have the whole video shot in my upcoming listing at
1210 40
th
Street
. This is an amazing 5 bedroom 4.5 bathroom home in the
Fab 40's
of
East Sac
.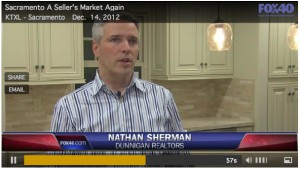 Here is the text summary from the Fox 40 site, but much more was covered in the video.
Real estate website Zillow recently listed Sacramento as the third hottest sellers' market in the country, right behind San Francisco. San Jose was listed number one.
FOX40 visited with Nathan Sherman of Dunnigan Realtors in Sacramento, who confirmed what the Zillow ranking suggests.
"There is not nearly enough inventory, and buyers are struggling to get a home under contract," Sherman said of the Sacramento market.
Year-over-year detached resale home prices in Sacramento County have been consistently positive over the past six months, according to DataQuick. The median price in November was $185,000. That is 17-percent higher than the price in November of last year. Potential buyers are finding themselves in bidding wars.
Sherman also said it is not uncommon these days to call a listing agent when a house comes on the market, and learn that the agent already has ten offers in.
People waiting for the right time to buy a home might be well advised to start looking soon, before things heat up even more.
As Sherman put it, "People were waiting for the bottom of the market. That has come and gone."