I love Zillow and I hate Zillow.
I love Zillow. I've loved it since I first discovered it a decade ago. My love of zilliow is for it's compilation of information in a mapped source. I can pull up the app on my phone and zoom in on a house across the street from a listing and be able to tell my clients the lot size and square footage of their neighbors. I will probably be able to see what it last sold for as well.
I hate Zillow. I hate how inaccurate the price opinion is in Zillow, what they call a "Zestimate". They can't give an accurate estimation of price just by averaging similar sized home sales close by. This doesn't take into account upgrades, lot size and most importantly, location, location, location! East Sac can have a huge price change in just one block. Compare the sales in the Fab 40's to any sale just one block outside of those boundaries. Some streets are quite with a full canopy of trees and the next street over could be a high pass through street with very little curb appeal.
When a home owner tries to use Zillow to get an estimate of value on their house, they could be greatly off.
Zillow recently published a very
interesting article
about the accuracy of their Zestimate numbers. Looking at Sacramento, they proudly state that 24.4% of the time their estimate is withing 5% of the actual sales price of any give home that sells. Without going into how much being 5% off on the price can cost a seller, let's look at the rest of their numbers.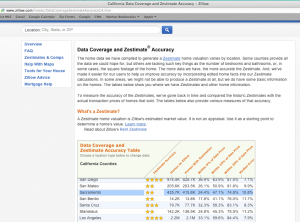 When you increase the margin of error up to 10% they hit that 47.1% of the time. This means that less than half of the Zestimate numbers for Sacramento properties are within 10% of the actual value of the home. 74.8% of the time they are within at least 20% plus or minus the actual sales value of a home.
Wait, this means that the other 25.2% of the time they are off by more that 20% of the actual value of the home! I don't like those odds at all.
As much as I love Zillow for the easy access it gives to a variety of information, I hate the false sense of accuracy the Zestimate gives buyers and sellers.
Nothing can replace the accuracy of an experienced agent working the neighborhood and knowing the value of each given block and why the comps in the neighborhood might be better or worse than any give home.